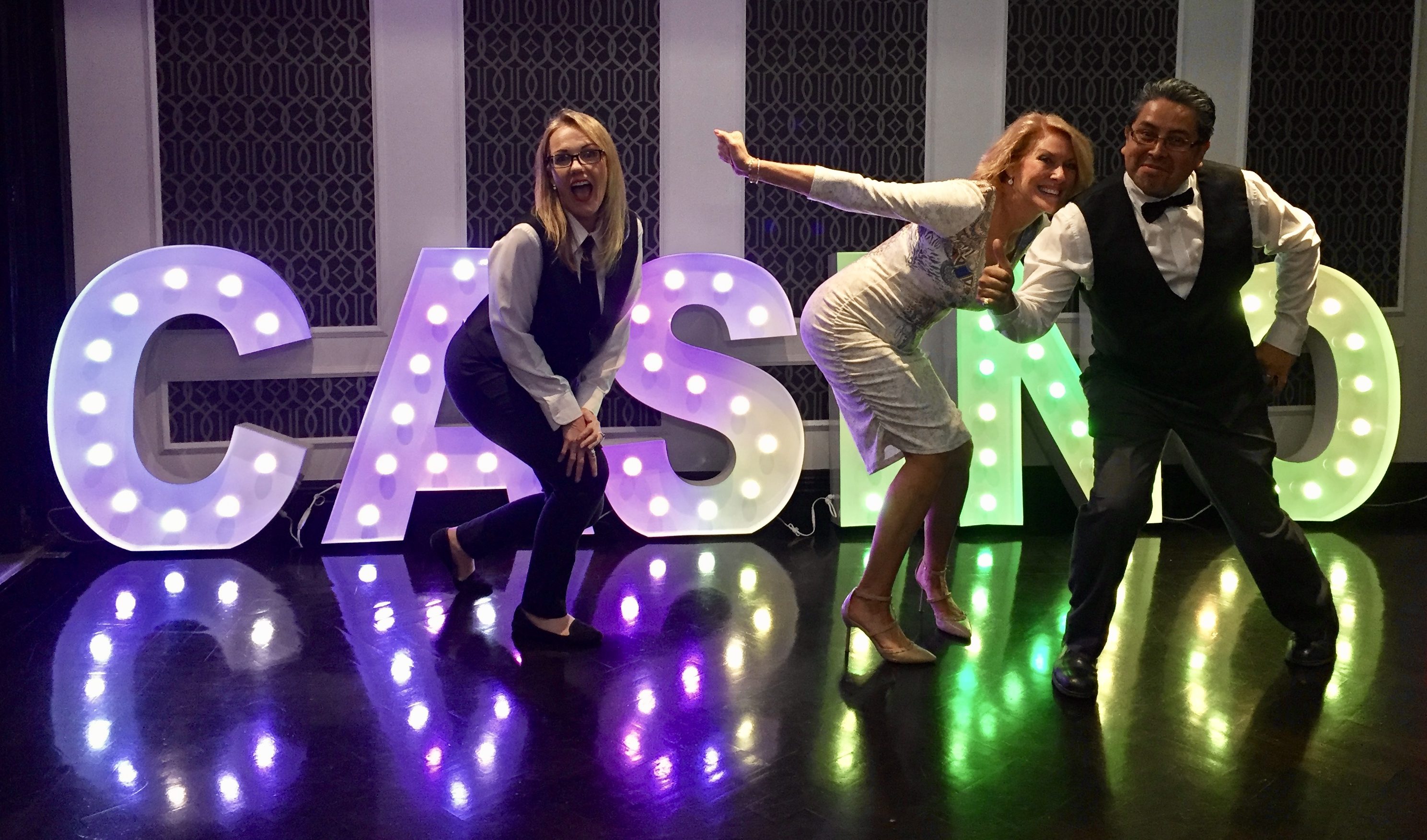 Let's get this Casino party started!
A Play-for-Fun Casino party is exciting and memorable, and a great way to break the ice and encourage your guests to mingle! You can now have all of the excitement of a real Casino at your event, without any risk or expense to your guests.
Casino Parties are available in all Sydney, Brisbane, Adelaide and Perth metropolitan areas. We also service regional areas including, but not limited to: Wollongong, Central Coast, Newcastle, Gold Coast, Sunshine Coast, and regional Western Australia.
Best Tables, Best Staff, Best Prices…OMG!!
Our tables are unbeatable on looks and price! Choose from our extensive variety of games including as Blackjack, Roulette, Vertical Roulette, Poker, Baccarat, Money Wheel, Suit Chase, Craps and Dice Ball.
Shopping around? Please make sure you visit our competitors' social media pages as this is where you'll see what their equipment looks like at real events. We're very big believers in what you see is what you get…and you won't get better than OMG tables!
Pricing
Choose your location below for pricing and specials in your area:

FAQ's
A Play-for-Fun Casino party is one that has Casino gaming tables and Croupiers, but where all betting is for fun and no cash is involved. You can host your own Casino party by hiring Casino tables and Croupiers from OMG.

Depending on how you choose to run your party, we can either distribute Funny Money to guests which they can exchange for chips at the gaming tables, or you can just let guests visit the gaming tables and play as they please.
You can be strict about only giving guests a certain amount of Funny Money or chips to play with, or you can make it unlimited play. We can accommodate either format.
Although your guests cannot exchange their chips for cash or anything of value at the end of the event, you can conduct an awards ceremony with some fun award categories such as Biggest Loser, Flukiest Player, Mr/Ms Blackjack, Mr/Ms Roulette, or whatever you choose!

As long as there is no real gambling (meaning there is nothing of value at stake on the outcome of the games), then play-for-fun casino parties are perfectly legal. Read more in this NSW government
Fact Sheet
Games available include Blackjack, Baccarat, Traditional Roulette (just like the casino), Vertical Roulette (a stand up wheel which the players spin themselves!), Poker, Sic Bo, Craps, and Money Wheel.

There is no catch!! OMG has made a commitment to bring the best possible price, service and equipment to the play-for-fun Casino industry, and that's exactly what we've done. We're also committed to transparent pricing, so unless you want something outside of our normal operations, you'll find that the pricing on our website is all you'll pay.
Our equipment is full-sized and made to be impressive. Your guests will love the look and feel of our tables, our leather armrests, our chips and cards, and they will gasp when they see our beautiful casino-sized Roulette wheels. One of the most common reactions we get when people see our equipment is "Oh my God, it's just like a real casino!"
Our team are highly skilled casino-trained professional Croupiers with a level of customer service expected by the most demanding of VIP players. Between us, we have over 100 years casino experience!

The OMG team will work with you to plan the perfect play-for-fun casino party for your venue and budget. We provide full-size, Australian made, professional Casino tables and experienced Croupiers to make your night a success. Not only are our Croupiers experts at their games, they have been selected for their excellent entertainment skills and personalities.
Choose from many popular Casino party games, and don't worry if your guests won't know how to play, our Croupiers will be happy to explain how each game works.
OMG can provide Casino table hire and experienced Croupiers for Casino parties in Sydney, Wollongong, Central Coast, Newcastle, regional NSW, Perth, and regional Western Australia. We guarantee that you and your guests will have a great time, just like these happy customers!

Yes! We can provide props to help theme your venue, a DJ to get people in the party mood, or a photo booth so your guests get photographic souvenirs from your event. We can also provide recommendations for venues, catering, balloons, lolly buffets, cakes and more. Just ask us!