Putting the FUN back into FUNdraising!
Fundraising for your club, school or charity is easy with OMG.
All OMG events are designed so that your ability to raise money is not limited to ticket sales. Our events planner will discuss strategies with you in order to optimise your fundraising efforts. Your success is ours!
We take your charity to
Any registered charity that holds an OMG event will receive a generous donation from OMG before the conclusion of their function!
---
Are your supporters getting tired of the same old fundraising techniques? Give them something new to look forward to, and an event they'll want to tell their friends about! An OMG Fun Casino Party is a great way to raise money for your club, school, or charity. We have a wealth of ideas which will help you raise as much funding as possible through your event! Learn more about hosting a Casino Party.

Horse racing nights are a great way to raise money for your club, school, or charity. Our events organiser will discuss details with you such as numbers expected to attend, equipment and room layout. We also have a wealth of ideas which will help your fundraising efforts and impress your guests! Make your next fundraising event a Horse Racing Night.

CHECK…RAISE…never FOLD with an OMG Poker Tournament for your club, school, or charity. Our Tournament Directors are always on hand to assist novice players who may need advice, and to make the night a fun event for all involved. Combine a Poker tournament with any other of our products for a fundraising event that will be remembered for years to come!

---
Raise the roof on your fundraising efforts by giving people a fun time in return for their money. Most people will pay $5 for a few raffle tickets, but let them spin the fundraising wheel so they can win a random number of tickets and you'll have people lining up to pay for another go!
Combining the traditional raffle with one of our dazzling OMG Spin2Win fundraising wheels and a photo booth will also make your fundraising event more attractive to potential sponsors.
Be SEEN: Sponsors will advertisements will be featured on a giant screen throughout the event, and each time their prize is spun on the wheel.
Be HEARD: Our OMG Wheel Master will talk about the sponsors and the wonderful prizes they have donated.
Be REMEMBERED: Kids and adults alike will love this, and your sponsors will too, because every time the wheel spins, people will be excited about the products and the sponsors who donated them.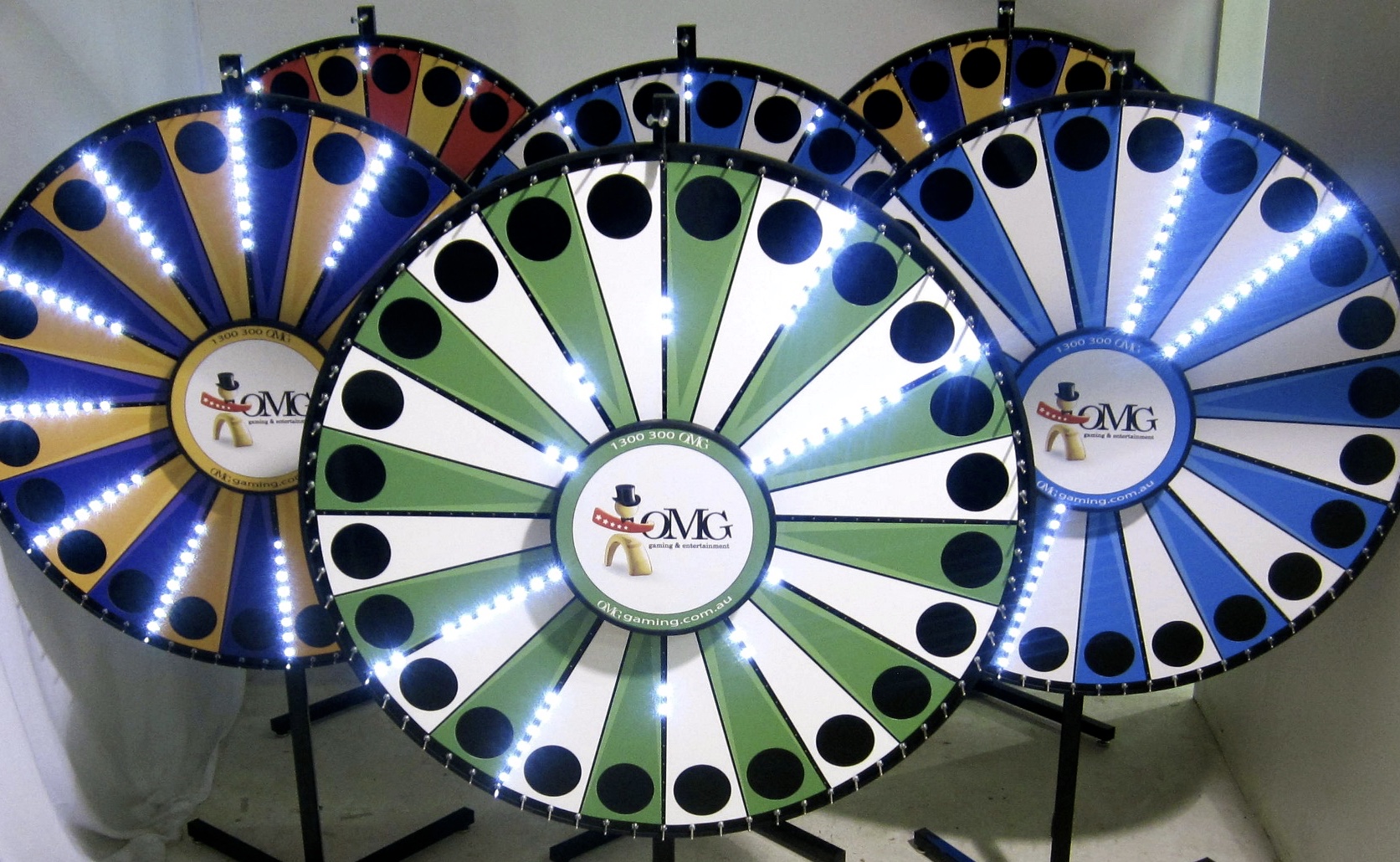 ---
Fundraising Event Showcase
Below are some examples of the many Fundraising events we've coordinated (for examples of other event types, please see our Private Parties and Corporate pages).
Bowel of the Ball
Charity:
Bowel Cancer Australia
Venue:
Souths Merewether
Supplied by OMG:
2 Blackjack tables and Croupiers
1 Roulette table and Croupier
1 Double Craps table and 2 Croupiers
1 Money Wheel table and Croupier
OMG Studio Photo Booth
Red Carpet and Bollards
James Bond theme props
---
Make-a-Wish Foundation
Charity:
Make-a-Wish Foundation Australia
Venue:
Club Central Hurstville
Supplied by OMG:
2 Blackjack tables and Croupiers
1 Double Roulette table and 2 Croupiers
1 Double Craps table and 2 Croupiers
1 Baccarat table and Croupier
1 Money Wheel table and Croupier
1 Suit Chase table and Croupier
Red Carpet and Bollards
James Bond theme props
Casino Maquee Letters
---
Left Bank Casino Royale
Charity:
Cystic Fibrosis Australia
Venue:
Left Bank Fremantle
Supplied by OMG:
2 Blackjack tables and Croupiers
1 Roulette table and Croupier
1 Double Dice Ball table and 2 Croupiers
1 Poker table and Croupier
Master of Ceremonies

---
Horse Racing Events
from $1100
(inc. GST)
Master of Ceremonies (Race Master)
Fun Racing Themed Props
Bogus Races and Bookies
Poker Events
from $660
(inc. GST)
Poker Tables with or without Dealers
Custom Chips and Cards
Tournaments available