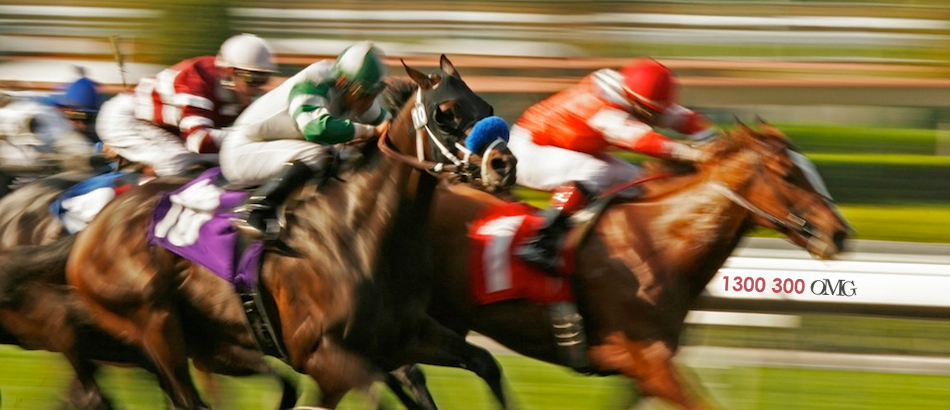 Giddy-up!
Go You Good Thing!
Bring a hilarious racing experience to your venue through an OMG Horse Racing event. There's no need to find a racecourse – we provide the "live races", along with a MC and Bookies, so that your guests can get into the spirit of the track.
Our own infamous Hugh DeMann will keep the crowd entertained (we advise you keep a close eye on your wives and girlfriends!)…meanwhile, our "reputable" bookies, such as Bonnie Anne Clyde, Bill Loaney, Owen U. Bigg, Rob N. Hyde, Gill T. Azell, and Willy Paye, will be on hand to collect wagers, hand out betting slips and pay out winnings.
Get your guests in the mood by inviting them to wear their best race day fashions, and have prizes for the best ladies' hat, and King and Queen of the track. Giddy-up!
Corporate Events
Hold a Horse Racing Night for your next corporate event, product launch, or team building session. Who will take the trophy home? Who will be the best dressed? Combine the event with a cocktail party, and you have the ingredients of a fun-filled function where people are encouraged to mingle and will have time to network between races. If you want to host a unique corporate event, then you've come to the right place!
Fundraising Events
Horse Racing Nights are a great way to raise money for your club, school, or charity. Our events organiser will discuss details with you such as numbers expected to attend, equipment and room layout. We also have a wealth of ideas which will help you raise as much money as possible through your event. Impress your guests and do something different for your next fundraising event.

Bucks & Hens Nights
Everyone loves the races, and they're sure to love a Horse Racing Night too! We make your Hen or Buck feel special and get them involved in some surprise races of their own! Want to be really cheeky? Name the horses after their ex's and take bets to see who comes in last! This is a great bucks party idea.

Weddings & Parties
A Horse Racing Night can be so much fun for any party. Encourage your gusts to dress in their best Race Day wear…"Suits and fascinators only, darling!" Serve champagne and watercress sandwiches, and let our Bent Bookies fleece your guests of all their hard-earned Funny Money! Put some OMG into your party planning.
---
---
Horse Racing Party Packages
Click for Sydney prices – starting at $1100
Click for Wollongong prices – starting at $1320
Click for Gosford prices – starting at $1320
Click for Blue Mountains prices – starting at $1320